Walking tour in the Old City – duration 2 hours.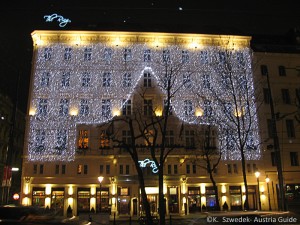 On our walking tour we will discover the world famous monuments of Vienna – the Opera house , where all Opera Superstars are performing, the Museum of the Albertina palace and Albertina square with the memorial for the victims of World War II.
Our tour will also take us through the many courtyards of the splendid Hofburg palace, once upon a time the winter residence of the Hapsburgs, the former Austrian Royal family. Today the palace complex includes the former Royal wedding Chapel of St. Augustin, the Austrian national library and the Vienna Spanish Riding School, where the white Lippizaner horses show their talent.
From Heros´s square we will enjoy a view of Ring Boulevard, the Ringstrasse, with all its famous monuments like the Museum of Fine Arts, Parliament and City Hall, all built on the order of Emperor Franz Joseph in the 2nd half of the 19th century.
Our tour will then take us to the pedestrian area of Kohlmarkt and Graben square with its beautiful houses and exclusive shops.
At the end we will reach St. Stephen´s cathedral, one of Austria´s biggest and most important churches, built in the gothic style of the 14th century.
Come along with us and enjoy the highlights of a beautiful city !